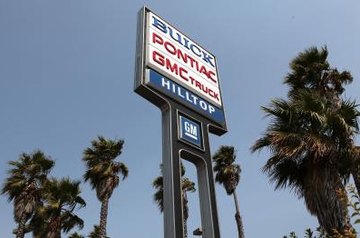 The Pontiac Grand Prix was a vehicle with a rich heritage that, over the course of its many generations, displayed signs of automotive multiple personality disorder. Introduced in 1962, the big Grand Prix became one of the most popular models of the 1960s, but Pontiac re-tooled it for 1969 as a mid-sized model. The 1969 model was the best-selling version of the Grand Prix up until that time, moving over 100,000 units in a single year. The Grand Prix has always displayed elements of both performance and luxury -- though sometimes one more than the other, such as the 1965 model, which Pontiac deliberately shifted away from performance toward luxury. However, even then it retained enough power -- especially through the mid 1970s -- that it often shows up on lists of classic muscle cars. It was this muscle-car heritage that inspired the 2005 Grand Prix GTP and its GXP stablemate.
Engine and Drivetrain
Pontiac gave the 2005 Grand Prix GTP a supercharged version of the base model's 3.8-liter, OHV, V-6 engine, with two valves per cylinder. Bore and stroke were 3.82 inches by 3.39 inches. The GTP generated 260 horsepower at 5,400 rpm and 280 foot-pounds of torque at 3,600 rpm, compared to the base model's 200 horsepower at 5,200 rpm and 230 foot-pounds at 4,000 rpm. The compression ratio on the supercharged GTP was 8.5-to-1, compared to the 9.4-to-1 of the base model. The 2005 GTP was in the power ballpark of the original 1962 Grand Prix, equipped with the base 389-cubic-inch V-8 engine that generated 303 horsepower. Pontiac paired the V-6 in the front-wheel-drive GTP with a four-speed automatic transmission. A TAPshift, for Touch Activated Power, four-speed transmission was available as part of the Competition Group, or Comp G, option package. The TAPshift tranny included steering wheel-mounted paddles that allowed the driver to shift manually.
Performance
The 2005 Grand Prix GTP was quick, running 0 to 60 mph in 6.6 seconds and posting a 15-second quarter mile. Those times were actually better than the original 1962 Grand Prix's figures, which registered 0 to 60 mph in 7.8 seconds and a 16.9-second quarter mile. Top speed on the GTP was an electronically limited 138 mph. It took 130 feet to bring the GTP from 60 mph to a full stop. But the power and speed of the supercharged GTP came at the cost of fuel efficiency, including the requirement for premium gasoline, when compared to the base model. When equipped with the TAPshift transmission, the GTP got 16 mpg in the city and 24 mpg highway for a combined 19 mpg. Models without TAPshift did slightly better, 17 mpg city, 26 mpg highway and a combined 20 mpg. Base models got 18 mpg in the city and 27 mpg highway for a combined 21 mpg, and did it running regular gas. With the standard 17-gallon fuel tank, a TAPshift equipped GTP had a range of 291 miles, compared to 306 miles for non-TAPshift models and 321 miles for a base Grand Prix.
Interior
There was plenty of room in the GTP. The four-door would seat five. Front seat passengers had 38.8 inches of headroom, 42.2 inches of legroom, 58 inches of shoulder room and 54.5 inches of hip room. As you might expect, it was a little more snug in the back seat, with 36.2 inches of headroom, 36.2 inches of legroom, 54.8 inches of shoulder room and 54.3 inches of hip room. Overall there was 114 cubic feet of room for passengers. The 60-40 split rear seats folded flat, individually or together. The front passenger seat also folded flat to allow transport of objects up to 9 feet in length, using the interior access to the trunk. The trunk itself held 16 cubic feet of cargo. For ease of access, Pontiac gave the Grand Prix GTP doors that opened 82 degrees. The GTP came standard with a CD player, cruise control, tilt steering, a multi-adjustable powered driver seat and OnStar. The Driver Information Center allowed drivers to choose the speedometer readout to be displayed in miles or kilometers, keeping the display uncluttered. Options included leather seats, heated front seats, a premium nine-speaker Monsoon audio system with six-disc CD player, a power sunroof, dual-zone climate control, DVD-based navigation and a heads-up display that allowed drivers to choose what information was displayed, including average speed and fuel consumption, current fuel consumption, current fuel tank range, compass and external temperature.
Exterior
The Grand Prix GTP was a mid-sized sedan, with an overall length of 198.3 inches and 110.5-inch wheelbase. The car was 55.9 inches in height and 71.6 inches wide, and had a curb weight of 3,582.5 pounds. Anti-lock brakes, fog lights and 17-inch wheels were standard. The optional Comp G package made the GTP the best handling vehicle in its class, capable of 0.83 G of lateral acceleration. A sports-tuned suspension and StabiliTrak Sport vehicle stability system were also part of the Comp G package.
Photo Credits
Justin Sullivan/Getty Images News/Getty Images