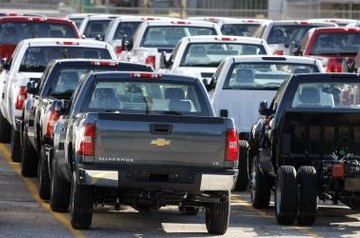 The 1996 Chevrolet Silverado, or C-1500, was a full-sized pickup truck that offered three engine options, three different body styles and the option of an automatic or manual transmission. The truck was part of Chevrolet's C-series, the main competitor to the Ford F-series trucks. It was known for its ability to be customized, offering the consumer many options under the Chevrolet household name.
The C-1500/Silverado Trim Options
In the 1996 model year, Chevrolet offered the C-1500 in either a regular, extended or Suburban body style. The Suburban, unlike the regular and extended cabs, was an actual SUV built onto the same C-series chassis made famous by Chevrolet's pickups. The 1996 model offered such amenities as standard air conditioning, cruise control and power windows and locks.
The V-6 Engine and Drivetrain
The Chevrolet Silverado C-1500 had an option for a smaller and more efficient engine. This 12-valve, 4.3-liter V-6 was rated at 200 horsepower at 4,600 rpm, and 260 foot pounds of torque at 2,800 rpm. The engine had a bore of 4.00 inches, and a stroke of 3.48 inches. Its final compression ratio was 9.2-to-1. The C-1500 came standard with a five-speed manual transmission with overdrive, but it had an optional four-speed automatic, also with overdrive. It had a final axle ratio of 3.08-to-1. The truck was offered in either rear-wheel drive or optional four-wheel drive.
Truck Dimensions and Suspension
The 1996 regular cab was 194.5 inches long and 73.8 inches high and could seat three people. With a total wheelbase of 117.5 inches, the C-1500 used a wishbone suspension in both the front and the rear, both with independent stabilizer bars. The truck came standard with a four-wheel anti-lock braking system and a driver's side front air bag.
Consumer Data and Performance
The 1996 Chevrolet Silverado/C-1500 had a front axle capacity of 3,150 pounds and a rear axle capacity of 3,750 pounds. It held a maximum trailer weight of 7,500 pounds, almost double its own curb weight of 3,775 pounds. The 1996 model received an Environmental Protection Agency-estimated 17 mpg in the city and 22 mpg on the highway. It had a manufacturer's suggested retail price of $18,893 and now carries a maximum value of $4,950.
Photo Credits
Bill Pugliano/Getty Images News/Getty Images