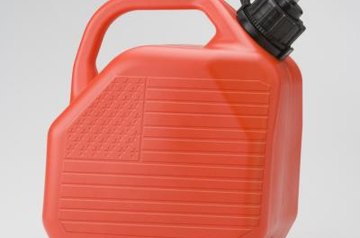 Spilled gasoline inside a car or truck produces a noxious smell that can cause headaches and nausea. Most gas spills inside a vehicle result from leaking or overturned gas containers in the cabin or trunk area. Once gas has spilled on the upholstery or carpet it can seep into the fabric fibers and linger there for days or weeks. You should remove any spilled gas from your vehicle interior as quickly as possible, since fumes can raise a fire hazard. If you need to remove a persistent gas smell from your vehicle, you can use several techniques and products, depending upon the severity of the spill and odor.
Venting and Safety
Find the location of the gas spill, or the strongest concentration of odor. Open the trunk lid and doors, then roll down all the windows. Do this outside in the fresh air and sunlight. Let the vehicle air out for at least 24 hours, or until the smell has dissipated enough so it will not affect your health. Do not smoke in proximity to any gasoline odor -- residual gasoline fumes can ignite.
Small Spills and Odors on Carpet
Use a mixture of carpet shampoo in a bucket of hot water and a carpet brush, if the spill or odor is minimal in size and confined to the cabin or trunk carpet. Scrub the capet fibers in various directions. Sprinkle some baking soda on the area and let it sit for 1 to 2 hours. Use the vacuum to remove the baking soda.
Small Spills and Odors on Seats and Door Panel Upholstery
Use the correct cleaning solution for either leather or vinyl, to clean seats or door panel upholstery. Wipe the stain area with the cleaner and blot with plain water and a towel. Let it air dry, then apply a light coat of vinyl or leather protector-sealant. Use carpet shampoo in a bucket of hot water, to scrub cloth seats or cloth door panels. Blot with plain water and then vacuum up all moisture. Sprinkle cloth material with baking soda and let it sit for 1 to 2 hours and then vacuum.
Heavy Spills and Strong Odor on Trunk Carpet
If possible, remove the trunk carpet if it has been heavily saturated with gasoline, producing a strong odor. Wash the carpet and padding sides equally, using carpet shampoo mixed with a half cup of vinegar in a bucket of hot water. Scrub both sides thoroughly and then vacuum dry. Sprinkle heavy amounts of baking soda on one side and let it sit for 24 hours. Vacuum up the baking soda. Flip it and do the same to the other side. Pplace the carpet in the trunk. Place a deodorant stick in the trunk or spray the interior with a strong fabric refresher.
Heavy Spills and Strong Odor in Cabin Area
You might not be able to remove your cabin carpet unless it comes up in sections. If you can detach it, clean it as outlined in Section 4. If you cannot remove it, saturate the carpet thoroughly with carpet shampoo and let it soak for 30 minutes, so the shampoo penetrates down into the pile and padding. Scrub and vacuum. Use heavy amounts of baking soda, letting it sit for 3 hours or more and then vacuum it up. Use a spray fabric refresher or scented deodorant stick in the interior.
Photo Credits
Jupiterimages/Comstock/Getty Images