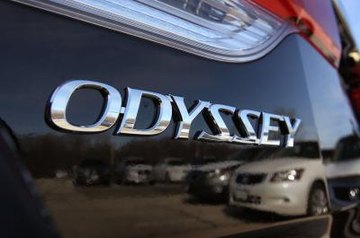 With the advent of crossover vehicles in the early 2000s, automotive critics wondered aloud whether minivans would survive the onslaught. After all, sales of the family movers had been falling since 2000, while sales of small SUVs and crossovers were on the rise. But Honda wasn't throwing in the towel just yet. The Japanese automaker revealed a complete overhaul of their Odyssey line of minivans for the 2005 model year, and critics and moms alike embraced the versatility and sedan-like experience of Honda's third-generation minivan.
2005 Honda Odyssey Basics
Honda first brought the Odyssey to America in 1994 to compete with Chrysler's market-leading line of minivans. The Japanese automaker granted the Odyssey a major update in 1999 before the all-new third-generation Odyssey hit the streets in 2005, where it occupied a 15.7 percent share of minivan sales in the United States (behind only Chrysler) for its debut year. Honda phased out the third-generation Odyssey for model year 2011. Three trim levels were available for buyers of 2005 Odysseys: LX, EX and Touring, the last of which was new for '05, and the Odyssey still competed with a slew of heavy-hitting competitors. Chrysler's upscale line of Town & Country minivans together with their slimmed-down Dodge Caravan siblings maintained a dominant 37 percent share of sales in 2005, but the Toyota Sienna, Ford Freestar, Nissan Quest, Buick Terraza and Kia Sedona also sought out families.
Powertrain and Dimensions
All 2005 Honda Odysseys came with the same all-aluminum SOHC V-6 engine that put out a class-leading 255 horsepower at 5,750 rpm and 250 foot-pounds of torque at 4,500 rpm. This 3.5-liter powerplant used what Honda called Variable Cam Management (VCM) to switch between three- and six-cylinder operation, depending on driving conditions, to increase fuel efficiency and performance. Power was routed to the wheels through a five-speed automatic transmission controlled by a console-mounted shifter, which replaced a problematic shifter that previous Odyssey models had mounted on the steering column. For 2005, the Odyssey also picked up some bulk. It measured 1.5 inches wider at 77.1 inches, but maintained the same 118.1-inch wheelbase, 201-inch length and 70-inch height of the second-generation Odyssey. The 2005 model managed a class-best 36.7-foot turning radius, and weighed in at 4,646 pounds, which made it the heaviest minivan available in 2005 by more than 300 pounds.
Options and Pricing
Traction control, stability control, dual front, side and overhead airbags, power brakes, steering and windows and antilock brakes came standard on all 2005 Honda Odysseys. The base LX model didn't include many audio or video upgrades or VCM on the V-6 engine as options, but could still be purchased with front bucket seats and split folding second- and third-row seats standard. The upgraded EX model came standard with steering-wheel mounted audio controls, a power driver's seat and seating for eight, instead of seven. The premium Touring model Odyssey came from the factory with a power moon roof, seven-speaker audio system, reverse-sensing system, heated front seats, leather upholstery and VCM standard. A voice-activated touch-screen navigation system could be added to EX models for $2,200 and to Touring models for $3,800, and for $1,600 ($3,800 for Touring) an entertainment system could be added to EX models.
Performance
Thanks to the beefy V-6 that lurked under the hood and a host of drivetrain upgrades, the 2005 Honda Odyssey outperformed its minivan counterparts on the track in almost every measurable way, despite its two-ton bulk. The family mover went 0 to 60 mph in 8.6 seconds, faster than the Toyota Sienna XLE (8.8) and the Dodge Grand Caravan XLE (10.2) of the same model year. The Odyssey clocked a 16.5-second quarter mile at 84.1 mph and needed 123 feet of stopping room to go from 60 to 0 mph. On the skidpad, the Odyssey maxed out at 0.76 Gs of lateral acceleration. The Odyssey beat out the Sienna and the Grand Caravan in all of the aforementioned tests, and also won the war at the gas pump where Honda's van received an EPA rating of 20 mpg city and 28 highway with the VCM engine (19 and 25, respectively, without it) on regular gasoline to beat out the competition. Towing capacity was rated at 3,500 pounds, which is the standard among the minivan segment.
Consumer Data and Safety
Honda incorporated its Advanced Compatibility Engineering body structure, which used a network of reinforced frontal frame structures to provide more protection during frontal collisions, into the third-generation Odyssey. As a result, the Insurance Institute for Highway Safety (IIHS) rated the 2005 Odyssey a best pick among minivans in its frontal crash test. The National Highway Traffic Safety Administration (NHTSA) gave it five stars, which is the best rating possible, for passenger's side, driver's side, rear occupant, front occupant and rollover resistance ratings. Honda priced the Odyssey to start at $25,195 for the LX model, but the Touring model started much higher, at $34,695, which meant the Odyssey was priced higher than all of its domestic competitors at both levels. As of February 2013, Kelley Blue Book pegs these 2005 models at a price between $7,800 and $12,400 depending on condition and features.
Photo Credits
Scott Olson/Getty Images News/Getty Images