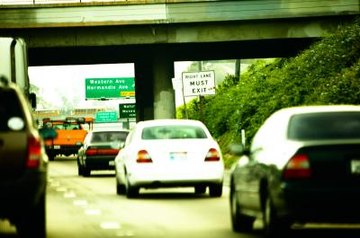 All California drivers are required by law to have financial responsibility, which essentially is a policy of protection should an accident occur. There are several means by which drivers can attain financial responsibility; the most common is by purchasing a liability insurance policy. Drivers must carry proof of financial responsibility with them at all times and when renewing registration. Failure to do so may result in penalties ranging from fines to vehicle impoundment.
Tort Law
California is one of 38 states that operate under tort law. Tort auto insurance is known as "at-fault" insurance, because in an accident, a driver can be deemed responsible for causing it. Based on this degree of fault, that driver's insurance provider may be responsible in paying for some -- if not all -- the damage incurred in an auto accident. Under tort law, victims can file suit to seek additional compensation from those responsible for causing an accident, such as lost wages or pain and suffering.
Minimum Requirements
California requires its drivers to have an auto insurance policy that has at least $15,000 worth of bodily injury coverage to one person, $30,000 worth of coverage for all involved in an accident, and $5,000 worth of property damage coverage. While these are the minimum liability requirements, there is the chance accidents exceed these limits, meaning at-fault drivers have to pay excess fees out of pocket. For these reasons, driver's often select higher policy terms and add on coverages such as collision, comprehensive, and uninsured and under-insured.
Exceptions/Options
Off-highway vehicles, trailers, government vehicles and special equipment vehicles do not have to prove liability insurance. Additionally, there are alternatives to proving financial responsibility in California other than buying liability insurance. These alternatives include making a $35,000 cash deposit with the California Department of Motor Vehicles. Obtaining self-insurance or obtaining a $35,000 surety bond from the California DMV are other options.
Penalties
Driving without insurance in California is against the law, and all drivers are required to carry proof of insurance at all times. Failure to do so can result in penalties, including a citation, vehicle impoundment, and drivers being held personally liable for damages in the event of an accident. Your vehicle registration will be suspended if you're found to have been driving without insurance and you can't provide proof within 30 days of being cited.
Photo Credits
Hemera Technologies/AbleStock.com/Getty Images